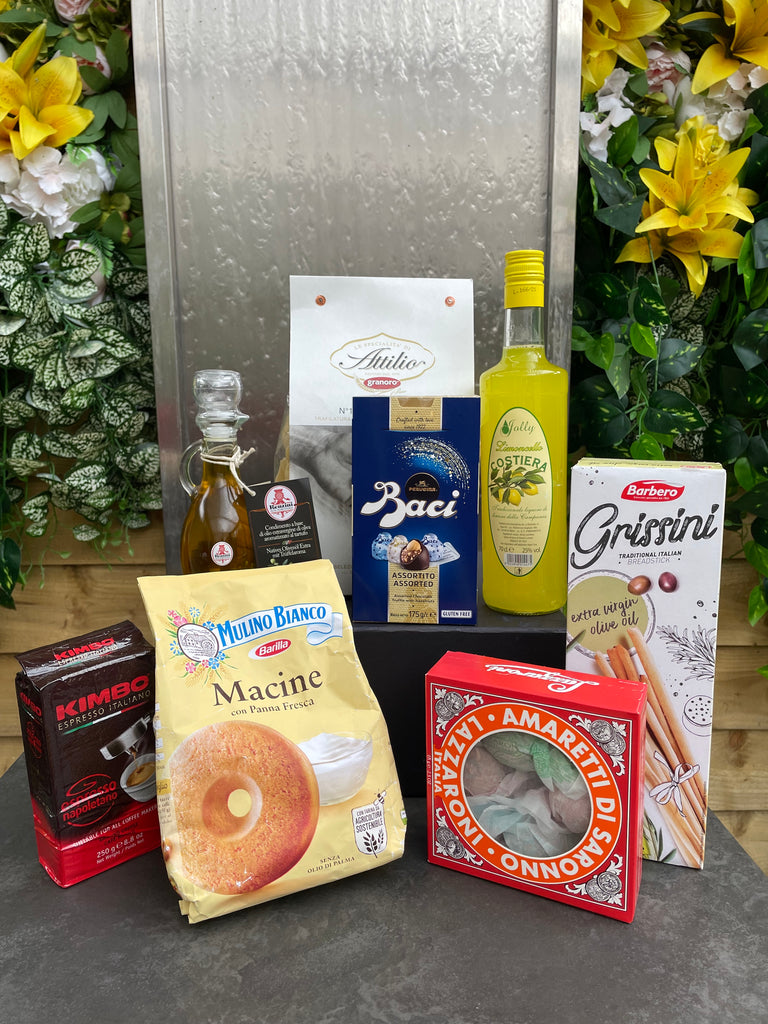 Have a taste of Italy with our luxury gift hampers, filled with delights sourced directly from Italy.
Amaretti Biscuits (65g) Deliciously crisp, they can take on slight variations in form and flavour, often flavoured with chocolate or liqueurs. Traditionally served with dessert wines, liqueur or coffee, but also a delicious addition or ingredient in many desserts.
Classic Italian Cookies (350g) Mulino Bianco is Italy's Favorite Bakery, crafting sweet cookies and savoury breadsticks with expertise and passion for flavor honed over 140 years.
Baci Bag (125g) Each chocolate kiss contains a whole hazelnut and cocoa filling with hazelnuts, surrounded by a coating of velvety dark chocolate
Limoncello Bottle, One of Italy's best known liqueurs and has a well-balanced sharpness/sweetness, with a wonderful refreshing aftertaste. Gioia Luisa is in the heart to Sorrento's peninsula. The particular micro climate produces the finest lemons which gives this Limoncello its unique taste and intense fragrance. Strict controls ensure the quality, using only lemons grown chemically free and using traditional manufacturing methods.
Truffle Olive Oil (250ml) The flavor and aroma of a truffle are shrouded in mystique — especially if you have never tasted a truffle. Truffles are essentially mushrooms that grow underground. Their rarity and unique flavor make them a fine dining delicacy. It can be difficult to describe the flavor of a truffle, but many use terms like woody, earthy, garlicky and fruity. The flavor is complex and intense, which allows it to add character to a wide variety of dishes.  
Kimbo Coffee (250g)With over 50 years of experience making outstanding coffees, we are masters at sourcing, blending and roasting the finest quality coffee – always in the traditional Neapolitan style.
Grissini (125g)Long, thin and crispy homemade Italian breadsticks perfect served with drinks, cured meats and cheese for an Italian aperitivo or for dunking in dips or soup. 
Granoro Pasta (500g) Granoro's Formati Normali di Semola are fragrant and delicious pasta shapes made from carefully selected durum wheat semolina and subject to a rigorous production process with a focus on the quality and characteristics of the raw material.